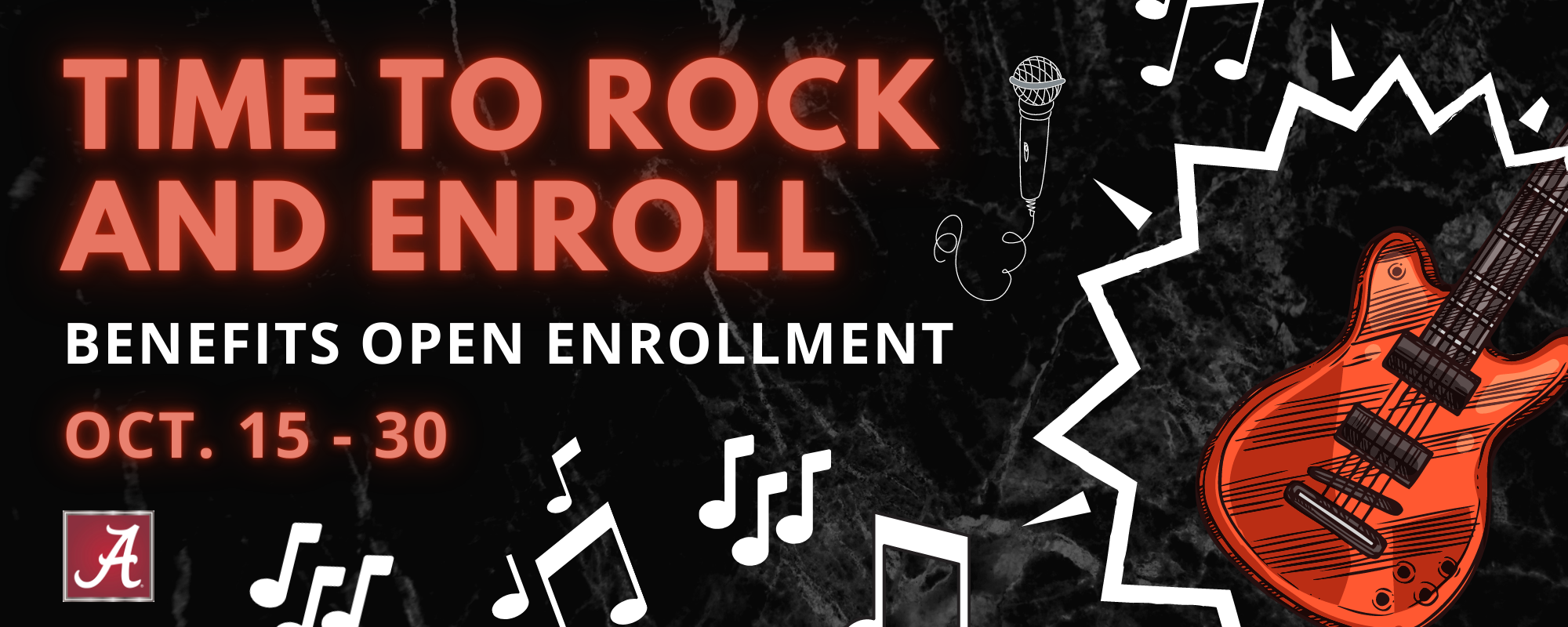 MENU:
Payroll Deduction Changes | FSA HSA New Vendor | Health Plan Changes | How to Enroll | Premium Assistance | Dependent Eligibility
---
Open Enrollment Requirements
The University of Alabama will continue to offer a simplified annual benefit process this year:
ACTION IS REQUIRED if you want to participate in a Healthcare Flexible Spending Account (HCFSA), Dependent Care Flexible Spending Account (DCFSA), or Healthcare Savings Account (HSA) for the 2022 plan year. Your current election will not rollover. For these tax-favored accounts, you must elect a NEW annual contribution amount to continue payroll deductions. If you fail to elect a new contribution for your HCFSA or DCFSA, you must wait until the next open enrollment period to elect coverage unless you experience a qualifying life event.
NO ACTION IS REQUIRED if you do not want to make any changes to health, dental, or vision coverage. You will keep your current benefits and these coverage(s) will rollover as-is effective Jan. 1, 2022 without taking any action in BenefitFocus.
---
Rock and Enroll Trivia
Participate for a chance to win a $25 Visa gift card! Beginning Oct. 15, each open enrollment email will contain a Qualtrics link to a new set of five trivia questions about open enrollment and rock and roll music. One, unique winner will be selected for each set of trivia questions per open enrollment email. You'll only have 24 hours to take each quiz, so don't delay opening an email! Winners will be notified by email and posted on the HR website and Facebook page on Nov. 1.
---
Open Enrollment Information Sessions
We encourage you to attend an information session to find out more about Open Enrollment changes. The General information sessions will provide a high-level discussion of all changes for 2022, including an overview of both the PPO and HDHP medical options. The HDHP/HSA specific sessions will provide a very detailed discussion only about these plan options. Links to recorded sessions will be provided for reference after each session.
---
Open Enrollment Communications
---
Payroll Premium Deduction Changes
Medical, dental and vision premiums are currently collected one-month-in-advance. For example, premiums collected for medical insurance on your November check(s) pays for coverage in December. Effective Jan. 1, 2022, premiums will be collected in the current month for January coverage and continue for all subsequent months with the following impact:
All benefit-eligible employees who pay medical, dental or vision premiums via payroll deduction in November (which pays for December coverage) will have no medical, dental or vision deductions on their December check(s). All deductions will resume in January for the current month.
The current month change will impact coverage in the event of termination of employment. Effective Jan. 1, all medical, dental and vision coverage(s) will end the last day of the month of termination with the option to enroll in COBRA continuation coverage effective the 1st of the month following termination.
In addition, the deduction schedules for all biweekly, non-exempt employee benefits will change in January:
For example, there are 26 biweekly pay periods per year with medical premiums collected each pay period (i.e., 26x per year), dental premiums collected on the 1st paycheck each month (i.e., 12x per year), and vision premiums collected on the 2nd paycheck each month (i.e., 12x per year), etc.
Effective Jan. 1, 2022, all biweekly benefit premiums will be deducted over 24 pay periods (i.e., only 1st and 2nd paycheck each month). This will standardize payroll deduction amounts for all benefits, making it easier for biweekly employees to understand and budget for recurring expenses.
---
New Vendor for FSAs and HSAs
Effective Jan. 1, 2022, UA will transition to a new vendor, PayFlex, to serve as third-party administrator for all HCFSAs, DCFSAs, and HSAs beginning in Plan Year 2022. PayFlex currently manages UA's COBRA continuation coverage and administers all tax-favored accounts for UAB and UAH.
All FSA and HSA plan participants will receive a new debit card from PayFlex in December. New contributions for Plan Year 2022 will be deposited into your PayFlex account beginning in January. The current administrator, TASC (Total Administrative Services Corp.) will continue to manage the run-out period for requesting reimbursement for Plan Year 2021 claims ending March 31, 2022. It's strongly recommended to file any reimbursement requests with TASC before the end of this year to minimize the potential for account balance discrepancies during the transition to PayFlex.
Substantiation Required for FSAs
The IRS requires PayFlex to verify that all FSA debit card transactions are for eligible medical or childcare expenses, a process also known as substantiation. When using your debit card to access funds from your FSA, PayFlex has established certain systems and rules to automatically verify the funds were used for an eligible expense. However, sometimes PayFlex can't prove that the funds were used for eligible expenses. When this occurs, you will receive a "Request for Documentation" notice on the PayFlex member website or letter by email or mail based on your account settings.
The best type of documentation to provide for substantiation is the Explanation of Benefits (EOB) from an insurance company showing the "final" amount owed. PayFlex will also accept an itemized receipt including the following information:
Provider or merchant name,
Patient name,
Date of service,
Type of service or item description, and
"Final" amount you owe
It's strongly recommended to keep all receipts, invoices, EOBs, etc. PayFlex Mobile allows members to simply take a picture of a document and upload it through the app. PayFlex Mobile also features an Eligible Expense Scanner for barcodes and a list of common eligible items. If your transaction is identified as not eligible for reimbursement then your FSA may be subject to correction procedures, including suspending the use of your debit card until the required documentation is received by PayFlex OR the exact amount is paid back to your account.
Customer Identification Process (CIP) Required for HSAs
HSAs are individual savings accounts subject to banking regulations including Section 326 of the USA PATRIOT Act. As a result, PayFlex is required to complete a Customer Identification Process (CIP) for all HSA participants. The same process was previously completed by TASC during your initial enrollment in the HSA. If you do not pass the CIP, PayFlex will send you a letter requesting additional documentation before you will have access to your HSA funds. You will not receive a card until the identification process is complete.
Optional Bulk Transfer for HSAs
UA plans to do a one-time, bulk transfer of HSA funds in January. HSA participants must authorize TASC to close your HSA and liquidate your entire HSA account balance (including any investments) before transferring funds to PayFlex. If you agree to have your HSA account and funds transferred to your new PayFlex account, then your HSA will be transferred based on the following timeline:
Jan. 10, 2022: Your current TASC HSA debit card will shut off
Jan. 10 – 18, 2022: TASC HSA blackout period; TASC HSA funds will be unavailable
Jan. 19, 2022: TASC will transfer your HSA funds to PayFlex, and these funds will be applied to your new PayFlex account in 3-5 business days.
Jan. 26 – 27, 2022: Your funds should be deposited in your new PayFlex HSA
What if I do not transfer my HSA funds, can I keep my TASC account? Yes, this bulk transfer from TASC to PayFlex is not mandatory. If you do not wish to transfer your current HSA funds, you may remain with TASC and Universal Benefit Bank. You will maintain the same TASC account and same TASC MasterCard debit card; however, your HSA will transition to an individual custodial account subject to a monthly HSA maintenance fee based on your cash account balance (maximum $4.00 per month). If you keep the same account with TASC, any new employer seed money and pre-tax employee contributions for Plan Year 2022 will still be deposited into a PayFlex account via payroll deductions, so you will have two, separate HSAs with different administrators and custodians. UA will be unable to send any employer seed money and/or pre-tax employee contributions to TASC after Dec. 31, 2021.
Additional information related to transitioning HSAs from TASC to PayFlex will be emailed directly to plan participants soon, including a DocuSign form to acknowledge your acceptance or rejection of the optional bulk transfer.
---
Health Plan Changes
UA employees will continue to have a CHOICE in medical plans between the Preferred Provider Organization (PPO) plan or the High Deductible Health Plan (HDHP) option! The HDHP is an increasingly popular choice – 22% of employees selected the HDHP during last year's Open Enrollment.
There will be NO annual premium increases and NO health plan design changes in 2022. Current deductibles, copayments, coinsurance, out-of-pocket maximums, etc. for both PPO and HDHP will remain the same next year.
Which plan is right for me? PPO or HDHP? Follow the steps in the Healthcare Expenses How-To Guide to calculate your annual expenses for medical and pharmacy. Complete the worksheet at the end of the guide to review your general plan recommendations based on your individual claims experience.
---
How To Enroll in Benefits
BenefitFocus is available via single sign-on in myBama. Login and navigate to the Employee tab to select the BenefitFocus icon. This portal is available 24 hours a day, 7 days a week. Any changes made to your benefits during Open Enrollment (Oct. 15 – Oct. 30, 2021) will be effective January 1, 2022.