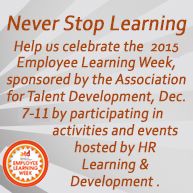 Quick Links

Student Employment Phishing Emails 11/24/2015- Students should be aware that a number of different phishing emails related to employment are currently being sent out. The emails are attempting to steal information. Please review these emails carefully, and be sure that you are expecting email from someone before responding. In general, the University does not ask for personal information over email, especially things like driver's license number, social security number, banking numbers, or similarly important information. View more information on the matter online at http://oit.ua.edu/2015/11/24/student-employment-phishing-emails/.
Important IRS Requirements  —Employees will be receiving emails from the HR Service Center notifying them that the University is missing Social Security Numbers for dependent(s) with health care coverage through the University. Visit the UA Benefits webpage for more information regarding emails related to missing Social Security Numbers and step-by-step instructions for how to update your dependents' information.
TRS Retirement Seminars - Planning for retirement? An informative first step is to attend a TRS Retirement Preparation Seminar this year. We have several open dates from September through December. Visit the RSA website to view the 2015 Seminar Schedule. Complete the Registration Form and begin planning for your retirement with confidence.
RSA-1 - Plant the Seeds for a More Secure Future. Enroll in the RSA-1 Deferred Compensation Plan now! RSA-1 allows Alabama public employees to make easy and flexible tax-deferred contributions toward their retirement. By contributing, you can lower your taxes now and save for a better retirement later.
 Voluntary Self-Identification of Protected Veterans form— The Office of Human Resources annually files the Vets100 report to the United States Department of Labor, which details a count of the University's employees who are identified as protected veterans.  In order to capture this information in Banner, the University invites employees who believe they are protected veterans to identify themselves by completing the Voluntary Self-Identification of Protected Veterans form.   Completion of this form, which is completely voluntary, will allow UA to capture employees' status as a veteran so that reports to federal agencies are accurate. The form is available on the Employee tab in MyBama under Employee Services.  If you have questions, please contact Amy Heatherly at aheatherly@fa.ua.edu or 348-6081.
_______________________________________________________________________________________________________________________________
The University of Alabama Acts Of Kindness Employee Relief Fund is available to provide appropriate relief to eligible faculty and staff of the University of Alabama who experience a qualifying event or emergency. Applicants of the Fund must have a documented event or emergency situation that has caused a financial hardship. To begin the application process, an employee must contact Angie Dickey in the Department of Human Resources at 348-6690 or adickey@fa.ua.edu.
Find information on eligibility requirements and defining a qualifying event or emergency.