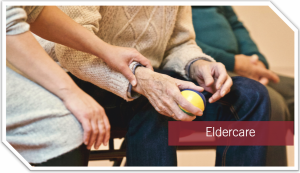 One of the joys in living is being independent. As fully functioning adults we are able to pay our bills, grocery shop, clean our own homes, garden at leisure and participate in activities that bring us pleasure. As we become older, we have the potential to lose the ability to care for ourselves. We might not be able to answer the phone, due to chronic rheumatoid arthritis; we might not be able to climb stairs to get to the sewing machine; cutting the lawn and landscape work might suffer due to the inability to push the lawnmower or get down on our knees. Sometimes a little help is all that is needed in order to remain living independent.
In the past, care of the elderly typically fell to the extended family. Now, with people having smaller families, older adults living longer, and families living further apart, care of the elderly is not only falling to the family (often long-distance), but also to independent caregivers, the state or charitable organizations.
Whether caring for an elderly family member or an elderly client, caregivers often have multiple challenges to overcome. As our needs and abilities change throughout the years there are issues that arise from time-to-time, that need to be addressed. Health issues (physical and mental), housing concerns, transportation issues, financial issues, and end of life decision making are some of these.
We've developed four steps (indicated on the sidebar) that can help you prepare for taking care of an elderly person. Explore our online elder care resources and tools that help address the responsibilities of elder care.