TUARA Resources
Retiree Resources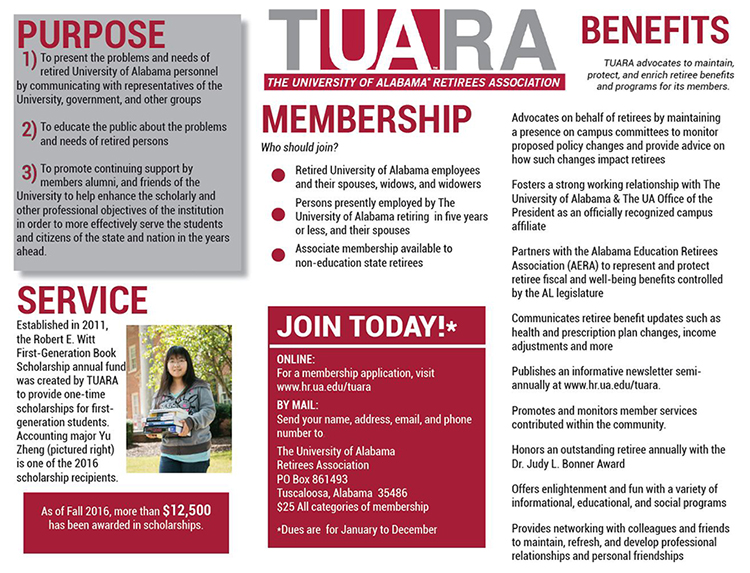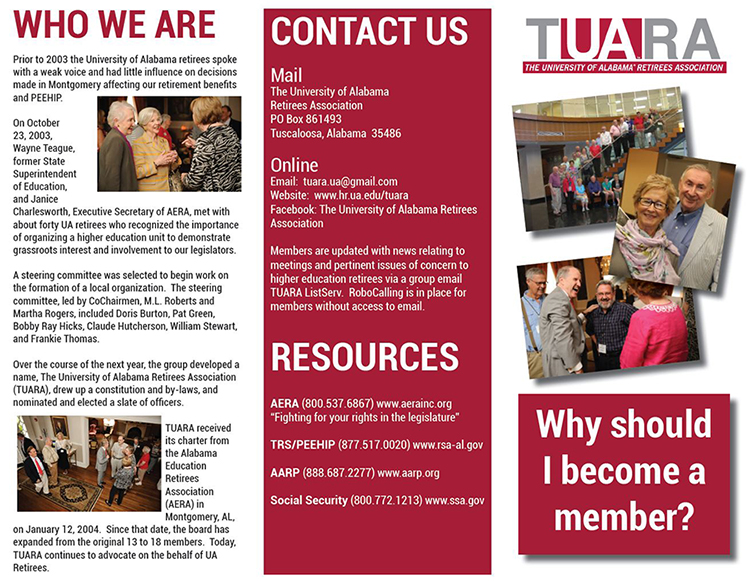 View a pdf version the 2016 TUARA Membership Brochure.
TUARA President's Message
As my time for serving as your President comes to a close I reflect on this opportunity with happiness and pride for some of our accomplishments, with angst at our failures and missteps, and with expectations for a progressive future for TUARA. Ends are not always bad things. A period signifies the end of a sentence and opens the opportunity for a new idea, a unique thought, a different opinion. At this point we do not know who our emerging leaders will be but I have confidence that the TUARA nominating committee will lead us forward with a strong slate of candidates to join the current committed and hardworking officers and board members.
TUARA'S leadership and your commitment to the organization is at a point where it is of greater importance than ever before. TUARA is your advocacy agency which works with the Alabama Education Retirees Association (AERA) to protect two of the most important benefits for which you worked and which you earned during your career at the University of Alabama – your retirement income and your health insurance. Currently the public employee retirement system is under a real threat. Retired UA Systems Chancellor, Dr. Robert Witt, plainly presents this situation in his article, Let's stand together to protect education funding, reprinted in this publication. Dr. Witt clearly states that your active support is essential to protect our education retirement funding. Additionally, our health insurance agency, PEEHIP, continues to struggle to sustain and provide coverage at the level needed. Our representative on this Board, Joe Ward, current AERA President, has stood-up and fought on your behalf. It is hoped that you participated in the recent election for this position to safeguard our interests.
To assure that TUARA can carry on representing you it is essential that our membership continue to grow. As a retiree, it is understandable that you do not want to be loaded down with responsibilities and commitments. However, without your attention and your service TUARA will not survive to protect your interests, provide you with noteworthy and informative programs, or opportunities to refresh and build an ongoing connection with our beloved university. There is power in numbers, and therefore if your contribution is membership, it counts greatly. However, leadership is the greatest gift. We need members who are willing to step-up, speak-out, and roll-up their sleeves to assure that TUARA provides a strong voice for The University of Alabama retirees. We need you to join or renew your membership. More importantly, we ask that you email, call or indicate on your membership form that you are willing to actively participate in a leadership role. I pledge to stand in the crowd beside you, always being willing to serve as needed. With your help TUARA can and will thrive and grow to continue to vigorously represent The University of Alabama Retirees as we move forward into the future.
Click here to read news form the 2016 Fall / Winter TUARA Newsletter.
Meet the TUARA President
TUARA is organized for the following purposes:
1. To present the problems and needs of retired University
of Alabama personnel by communicating with
representatives of the University, government, and
other groups;
2. To educate the public about the problems and needs of
retired persons; and
3. To promote continuing support by members, alumni,
and friends of the University to help enhance the
scholarly and other professional objectives of the
institution in order to more effectively serve the
students and citizens of the state and nation in the years
ahead.
Looking forward to hearing from you and seeing you at the
next TUARA function. My email, phone, and doors are
always open.
Mildred Switzer,
TUARA President, 2015-17
4switzer@att.net
205-886-7619
2656 Meadowlark Lane,
Northport, AL 35476