I'm a UA student or employee. How do I complete the UA Child Protection Policy refresher course in Training Academy?
You will not be able to access the course until it has been assigned to you.
Before accessing Training Academy, or to address any technical problems you might experience, you should ensure your computer and browser are ready to use Skillsoft products by following the instructions in the Online Compliance Training Quick Start Guide (PDF) or this FAQ entry.
The UA Child Protection Policy Refresher "course" consists of a PDF document.  To complete it, you must read the material, close the browser tab that contains the PDF, then select Confirm in the box that appears after the document is closed.
In order for the confirmation box to appear, you must disable your browser's pop-up blocker or change its settings to allow pop-ups for these sites:
skillport.com
skillwsa.com
gotrain.net
See this FAQ entry for detailed instructions: How do I disable my browser's pop-up blocker or change its settings to allow pop-ups for Skillsoft sites?
When your computer and browser are ready:
1. Access Training Academy via the link in the notice or the Training Academy page of the HR Learning & Development website.
2. Log in with your myBama ID and Campus Wide Identification Number (CWID).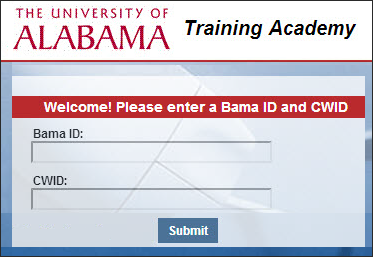 Your myBama ID is the username you enter to log on to myBama. It is the part of your official UA email address ending in @bama.ua.edu or @crimson.ua.edu that comes before the @ sign.
If you are unable to log in, please contact HR Learning & Development at 205-348-9700 or HRLearningandDevelopment@ua.edu.
3. To access your courses, select Learning Plan at the top of the left column. Your current training requirements will appear in the middle of the page.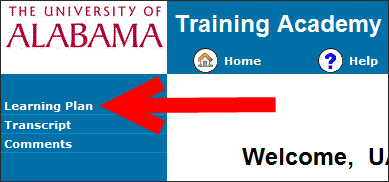 Be sure you select Learning Plan; your current training requirements will not be visible if you select Completed Training / Review Material or Curriculum Groups.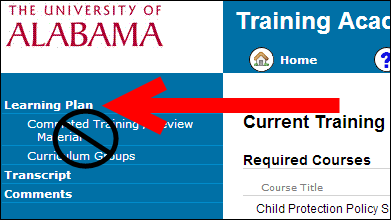 Your Learning Plan is organized by:
Overdue Training
Required Courses
Optional Courses
4. Select the Run Course arrow next to UA Child Protection Policy Refresher.
5. Read the material and take any additional action requested (accessing a policy website, etc.).
6. Close the browser tab or window that contains the PDF.

In most browsers, you can close a tab by selecting the X icon on the tab or using the keyboard shortcuts Ctrl+W (Windows and Linux) or ⌘+W (Mac). Be sure not to close the browser entirely!
7. When the confirmation box appears after closing the tab or window, select Confirm to complete the course.

After completing the course, you may need to select

 Refresh in order to update your completion status on the Learning Plan page.

You may select Transcript in the left column to view and print or save a report of your training history, including courses completed, courses in progress, and overdue courses.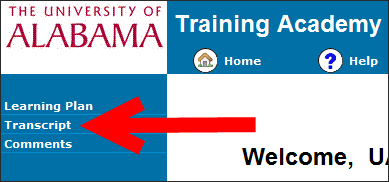 You may select the Print Certificate icon next to a completed course to print or save a completion certificate. You do not need to submit a certificate to HR.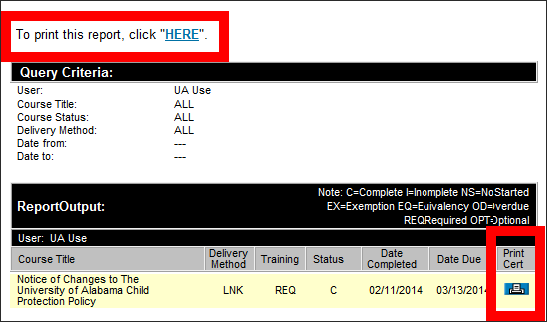 Select Exit to log out of Training Academy.

Posted in: Compliance Training, Training Academy