I am a non-UA individual. How do I complete the Clery Act, HIPAA Privacy and Security and Harassment Prevention training and provide proof of completion?
Non-UA individuals required to complete their compliance training do so via the Skillport online learning system.
Before accessing Skillport, or to address any technical problems you might experience, you should ensure your computer and browser are ready to use Skillsoft products by following the instructions in this FAQ entry.
When your computer and browser are ready:
1. Access Skillport via the Skillport page on the HR Learning & Development website or by going to https://uahr.skillport.com.
2. If you have already created a Skillport account, skip to step 5. If you have not, follow the link under Non-UA Individuals to register for a non-employee account (the New User Registration form may also be accessed directly here: https://uahr.skillport.com/skillportfe/register.action).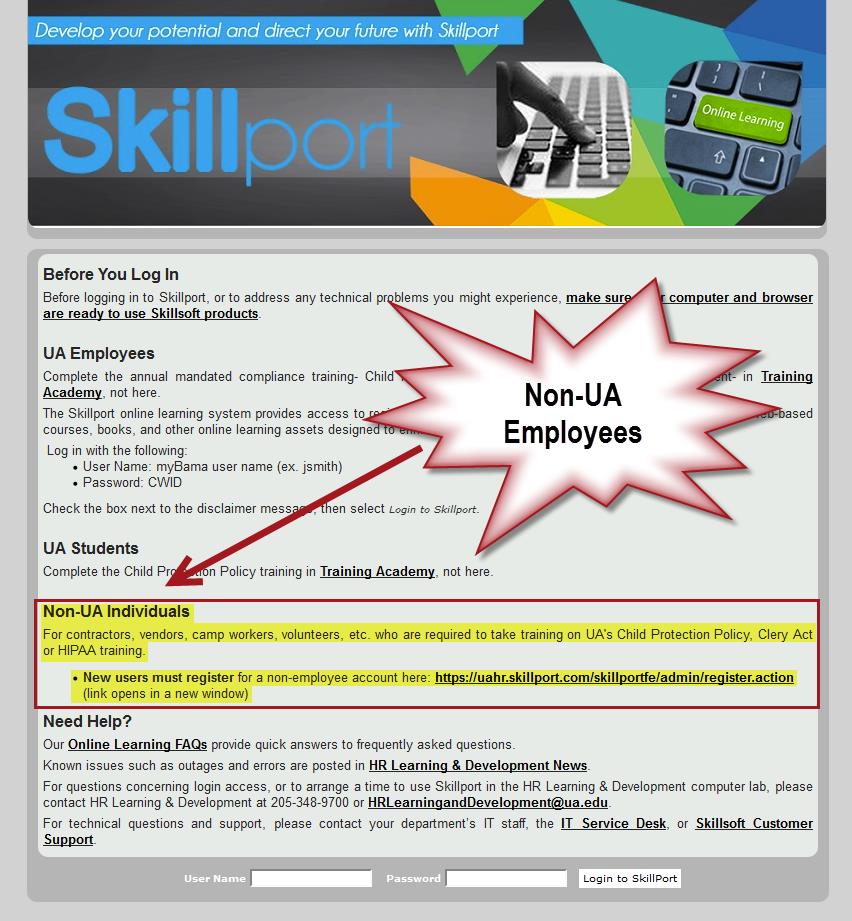 3. Complete the New User Registration form. When asked to choose a group, select Non UA Employees.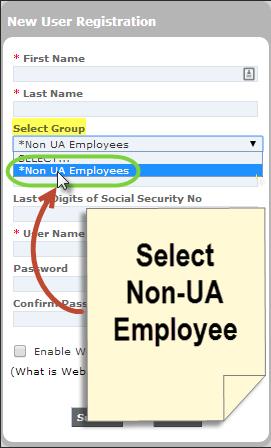 4. If you are not automatically logged in to Skillport after submitting your registration, return to the Skillport log in page.
5. Log in with the username and password you created. Be sure to check the box next to "Upon entering this site…"

6. While logging in to or using Skillport, you may see messages or security warnings asking if you want to run, accept, or allow applications from Skillsoft, Skillport, Oracle, or Java. These messages will differ depending on the computer and browser you use, but you will need to allow the applications in order to successfully use the training system and can choose to allow them just once or always.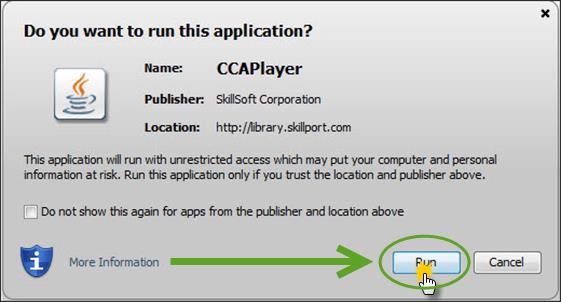 7. From the Skillport home screen, select "Catalog".

8. Launch your required compliance training course.
You can do this by hovering over the title of the course, then selecting "Launch".

You can also do this by clicking the title of the course then selecting the Launch icon.

9. The course player will open in a new window. Use the Skillsoft Course Player navigation buttons to move through the course.
A sample course is pictured below, along with a description of each course player button and its function(s).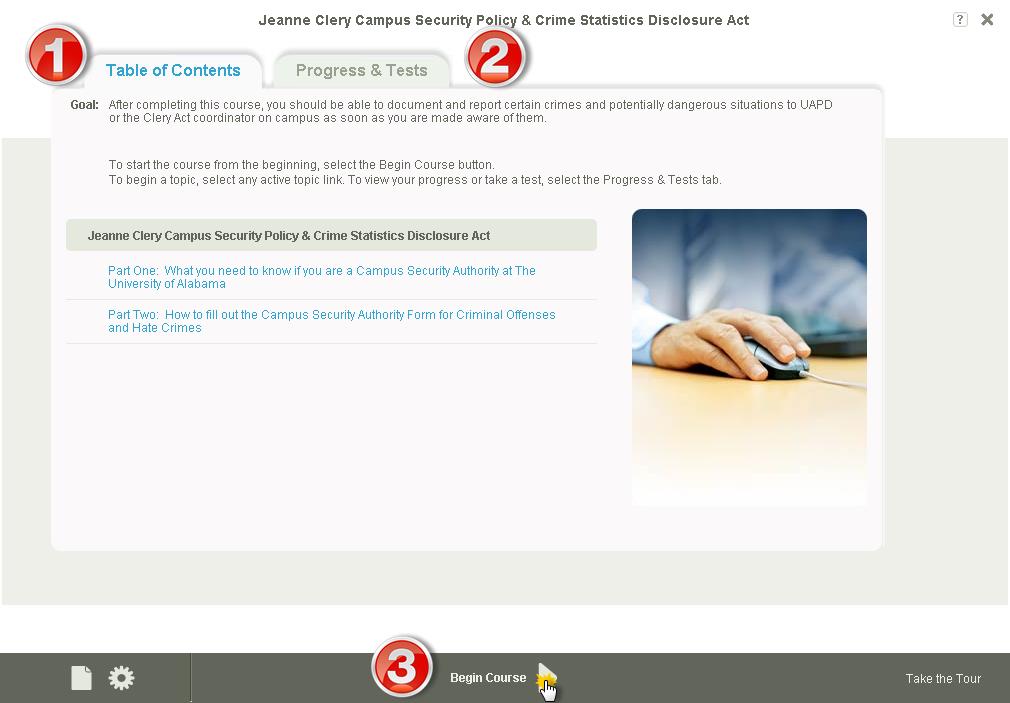 Table of Contents – Access to all instructional content.
Progress & Tests – Information about your progress in the course, including test status and scores and your progress for individual lessons or topics.
Begin Course / Return to Bookmark / Next Page – Main navigation button. Used to begin the course, resume where you left off, or move to the next page.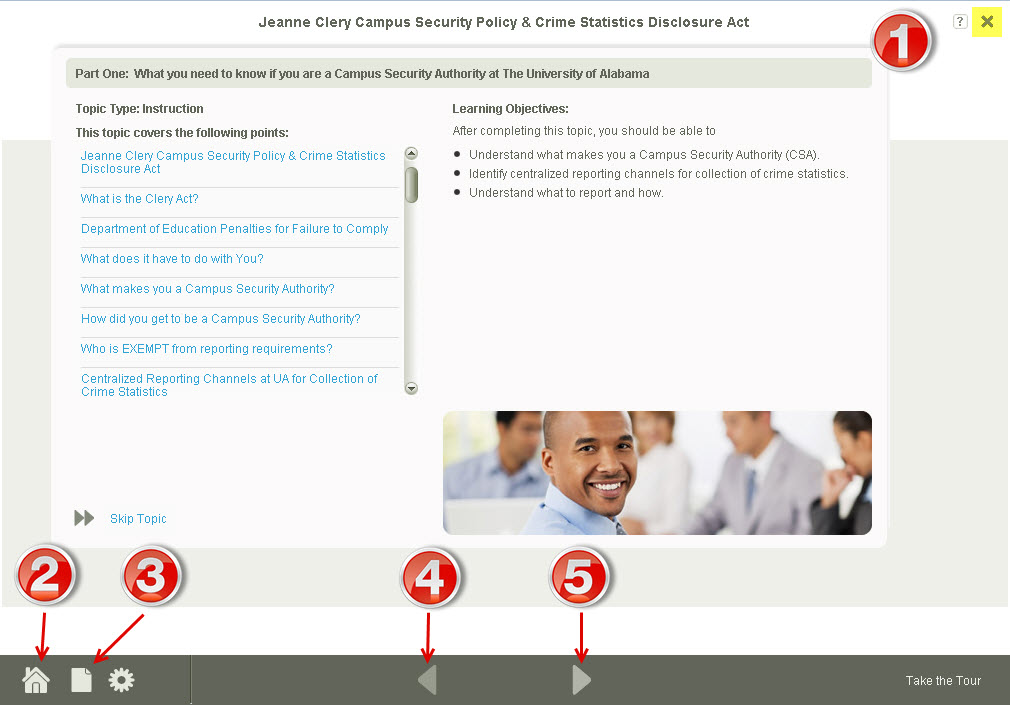 Exit – Use this button to exit the course; otherwise, your progress may be lost.
Home – Returns you to Table of Contents or Progress & Tests, depending on where you entered the course.
Resources Dialog – Contents vary by course but may include references, course index, Job Aids, transcripts, settings, and more.
Previous Page – Displays the previous page.
Next Page – Displays the Next page.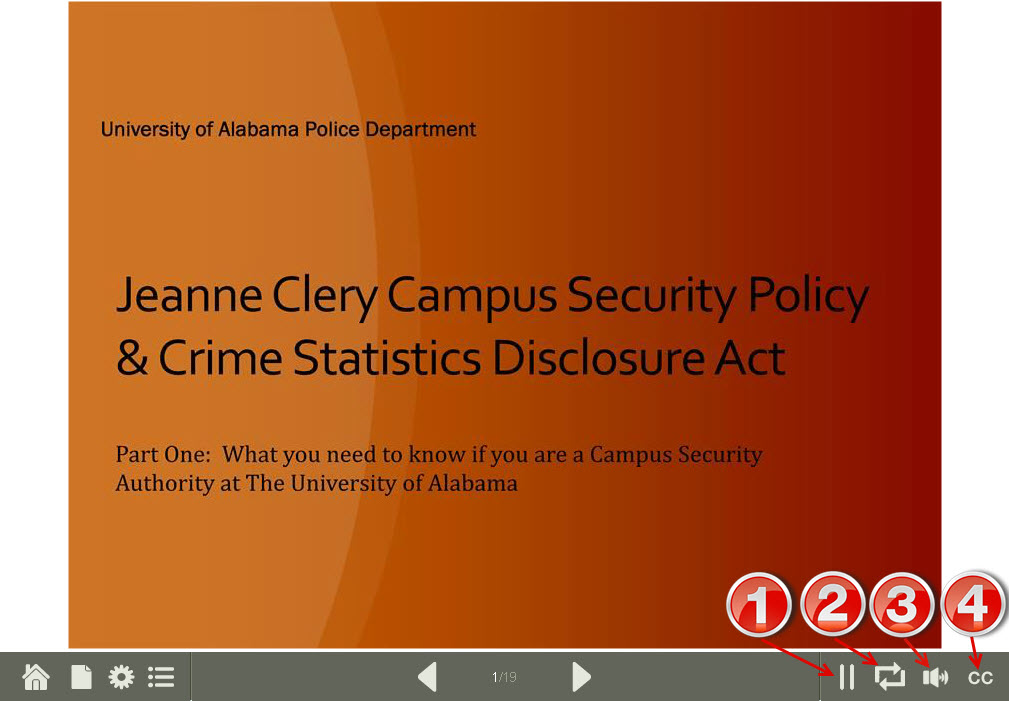 Pause – Used to halt the course. Pressing it again will resume the course.
Auto Advance – Turns the auto advance off or on. Once a course is started, it plays automatically, stopping on pages that require user interaction. If auto advance is disabled, you have to click the Next Page button to progress.
Audio – Turns the audio off or on.
Closed Captions – Turns captions on and off.
For courses that require testing (HIPAA and Harassment), complete the following steps.  For the Clery Act course, proceed to step 15.
10. At the conclusion of the course content, you will be prompted to successfully answer the following test questions.

11. To start the test select the "Begin Test" button.

12. Respond to all questions.
13. You must score an 80 or better to successfully complete the course.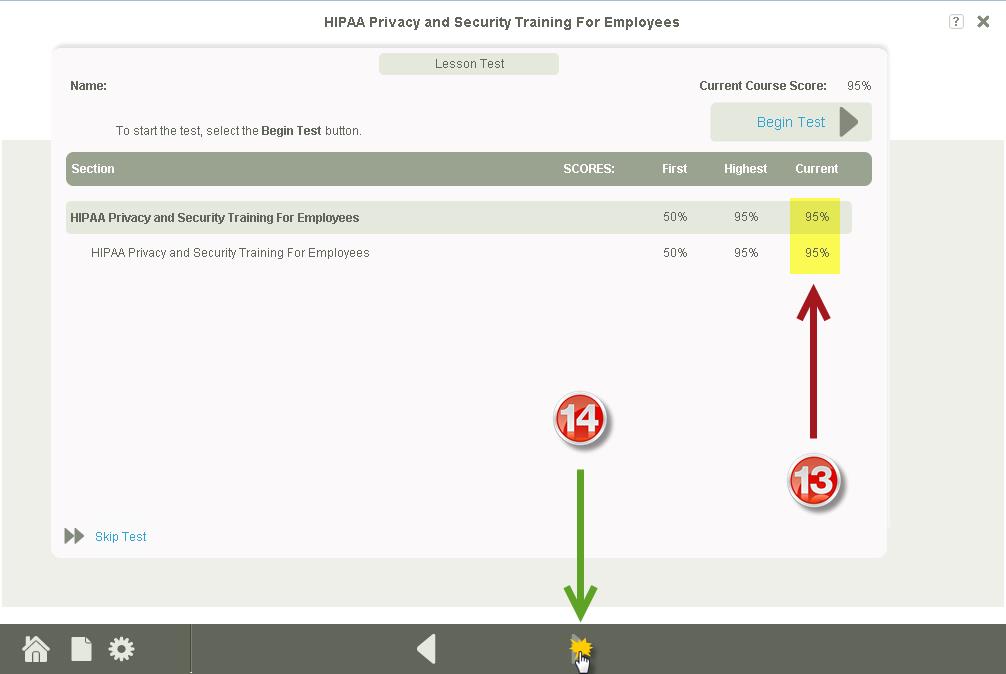 14.  After completing the test, click on the next page button.
15. After completing the course, select "Exit Course" to exit the course player.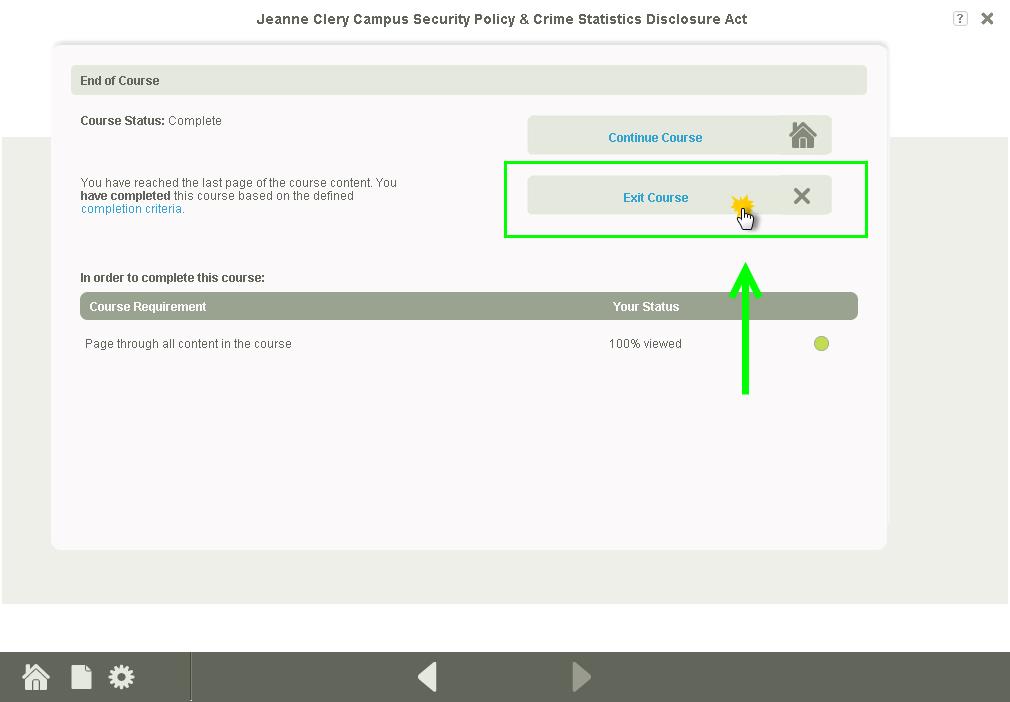 16. Select "Yes" to exit the course (select No if you have not completed the course and/or do not wish to exit).

17. After successfully completing the course, you may be required to provide proof of completion.  To provide proof of completion select "My Progress".

Then select "Completed".

Then select "Print Report".
The Select "Completed" and the "OK".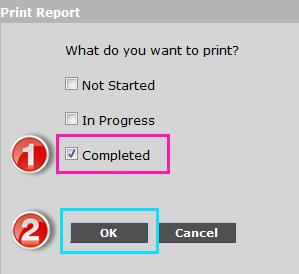 This is what your progress report will look like.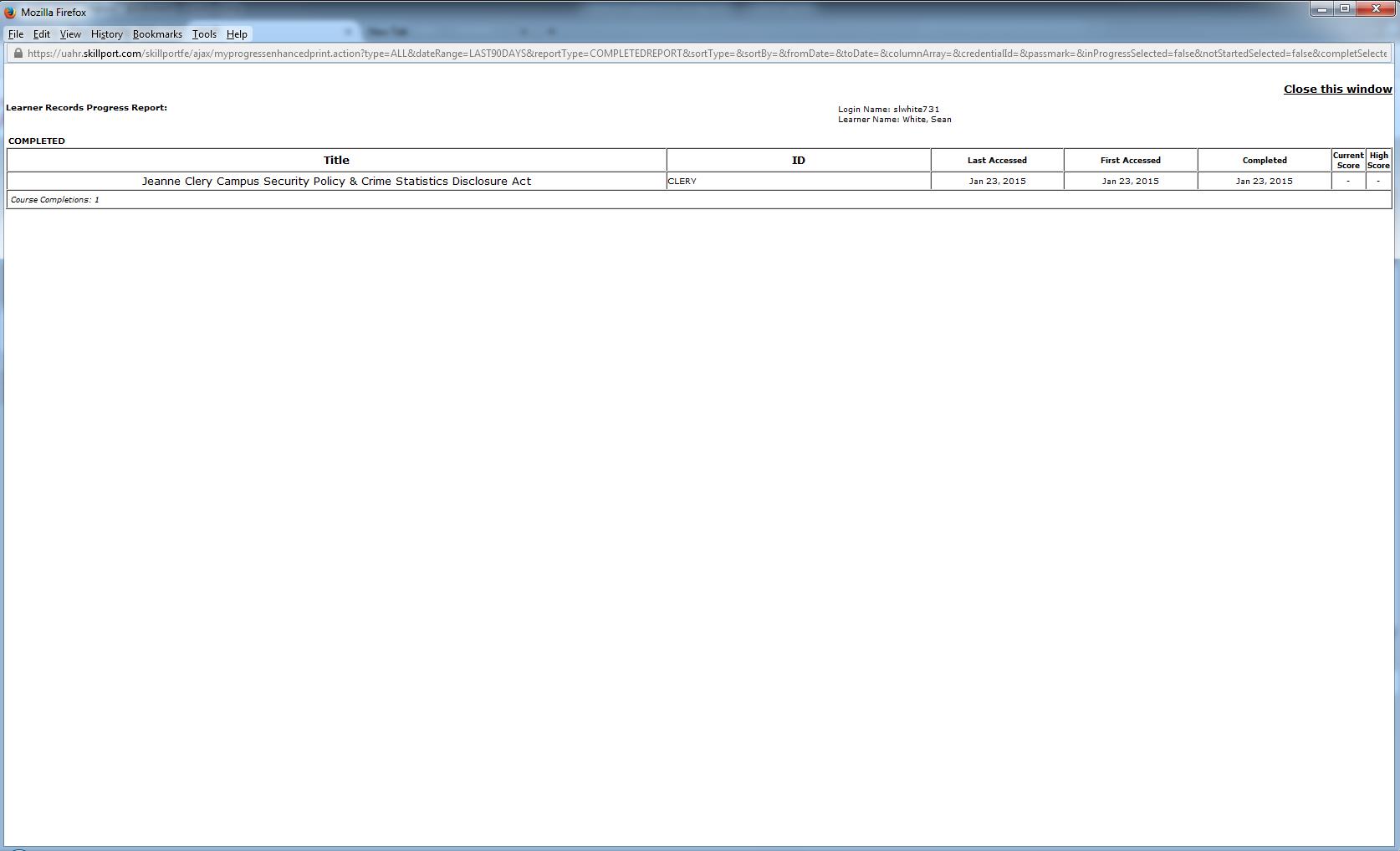 Select Print Report to view a report of your completed training. Use your browser menu to print or save the report or certificate to provide your employer, program, or camp.
To print select "File" then "Print".  Then click on "OK".

Select "Log Out" to log out of Skillport.
For technical questions and support: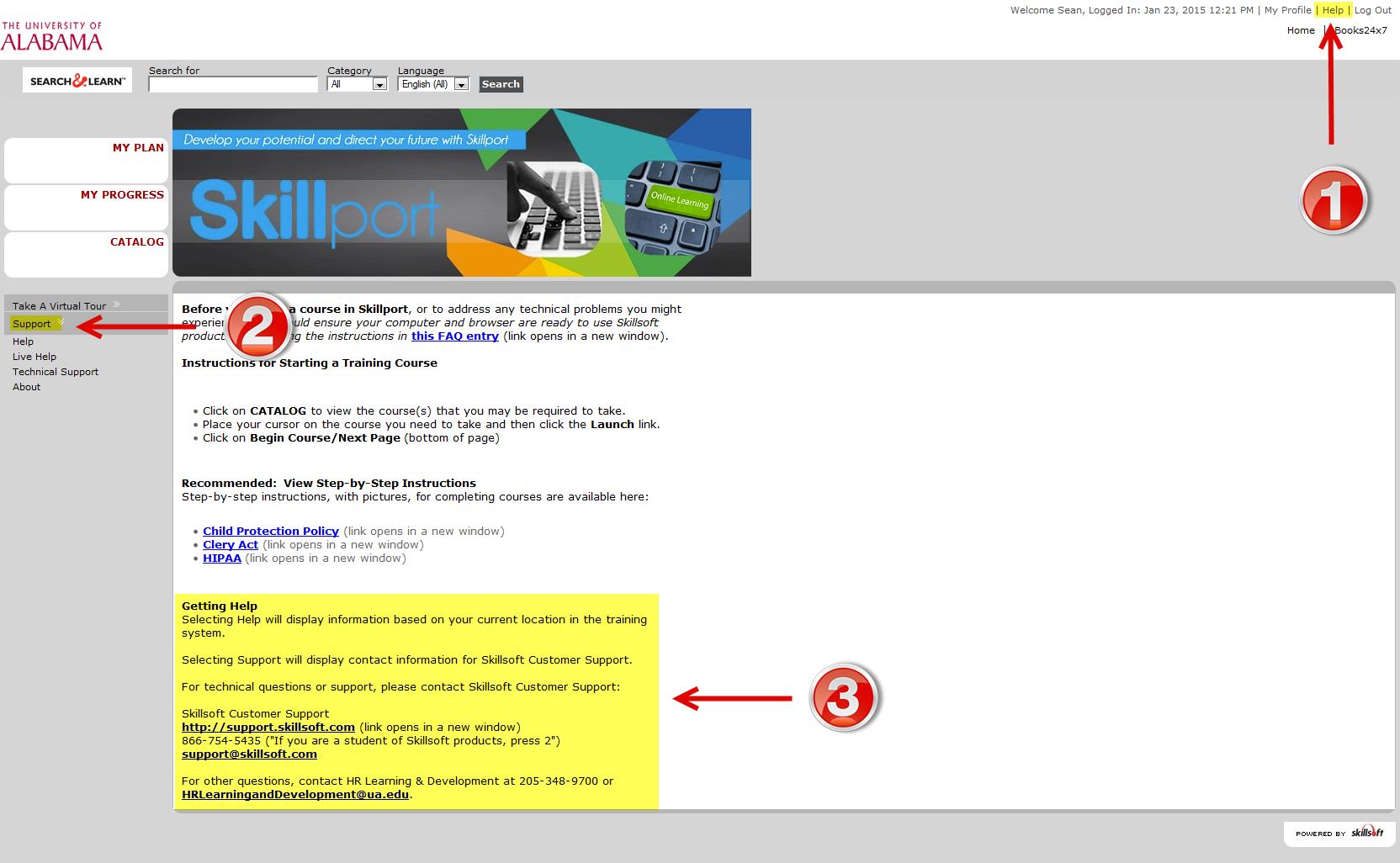 Selecting Help will display information based on your current location in the training system.
Selecting Support will provide contact information for Skillsoft Customer Support.
Links to support resources can be found on the Home screen.
Resources for additional assistance:
Our Online Compliance Training Quick Start Guide (PDF) provides instructions to help you: make sure you receive training notices, make sure your computer and browser are ready to use Skillport, understand how to complete the required courses, and know how to get help.
Our Online Learning FAQs provide quick answers to frequently asked questions.
Known issues such as outages and errors are posted in HR Learning & Development News.
For questions concerning login access or assignments in Skillport, please contact HR Learning & Development at 205-348-9700 or HRLearningandDevelopment@ua.edu.
For technical questions and support, contact Skillsoft Customer Support.
Skillsoft Customer Support:
Web site: http://support.skillsoft.com
Phone Number: 866-754-5435 (If you are a student of Skillsoft products, press 2)
Email: support@skillsoft.com
Posted in: Compliance Training, Skillport