How do I make sure my inbox is ready to receive training notices?
Employees are notified of required training via email notices from the Training Academy system.

These email notices include a link to and instructions for accessing Training Academy, along with information about course requirements and due dates. Overdue notices are also sent each night to users who had assignments become overdue on the previous day.
Training notices are sent to official UA email addresses ending in @bama.ua.edu (faculty and staff) or @crimson.ua.edu (students). While it's not possible to change the address to which training notices are sent, faculty and staff employees may request that email sent to their official UA email address be forwarded to another UA email address (such as a department, college, or division account). Contact the IT Service Desk for more information about email forwarding.
Check your spam folder, and, to ensure delivery of notices, add these addresses to your email contacts or "safe senders" list:
noreply@skillsoftcompliance.com
compliancesupport@skillsoft.com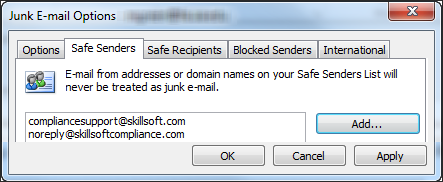 Posted in: Compliance Training, Training Academy