How do I make sure my computer and browser are ready to use Skillsoft products?
Be sure to check with your department's IT support staff or the IT Service Desk before making any changes to your University computer, especially before installing or updating Java (this is particularly important for Banner and Blackboard users). In some cases, an administrator account may be required to make or save changes. If you can't or don't wish to make changes to your computer, you are welcome to complete training assignments in the HR Learning & Development computer lab. Please call 205-348-9700 so we can ensure it is available to you.
Computers and browsers used for this training must meet the minimum system requirements of the Skillsoft online learning systems. Before accessing Skillport or Training Academy, or to address any technical problems you might experience, you should ensure your computer and browser are ready to use Skillsoft products by doing the following:
1. Pop-up Blocker must be allowed for you to access the Skillsoft course, you may find these additional instructions helpful: How do I disable my browser's pop-up blocker or change its settings to allow pop-ups for Skillsoft sites?
2. Follow these instructions to optimize your browser for Skillsoft products. Along with skillport.com and skillwsa.com, be sure to also add gotrain.net to the list of trusted sites, allowed sites, or exceptions.
Mac users only
Mac users may also need to adjust their Security & Privacy options to install or update Flash or Java and to allow Skillsoft and Java applications to open. Lion (10.7), Mountain Lion (10.8), and Mavericks (10.9) users go to Apple menu > System Preferences > Security & Privacy > General, then select "Allow applications downloaded from Anywhere." It is recommended you change this setting before you attempt to make the other changes to your computer and restore it to  "Mac App Store" or "Mac App Store and identified developers" after completing training.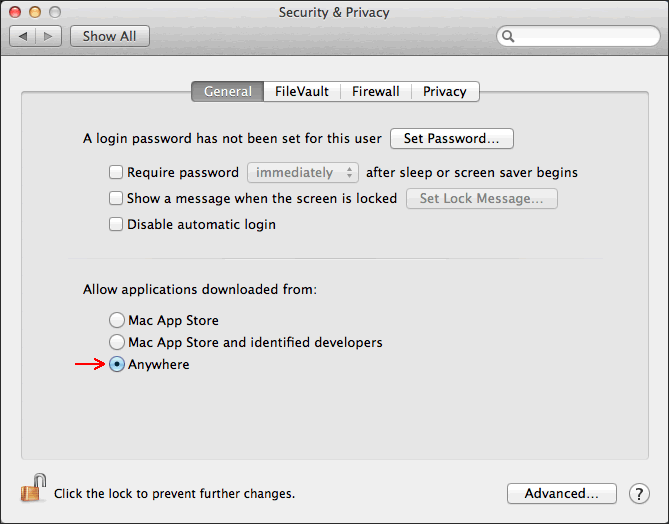 Skillsoft supports most versions of Mac OS X and Safari 3.0.4 and later. However, due to the additional steps required to configure Macs to use Training Academy, some users find it easier to complete the training on a PC, a virtual machine, or a Windows partition.
Messages and security warnings
While preparing for and completing online training, you may see messages or security warnings asking if you want to run, accept, or allow applications from Skillsoft, Skillport, Oracle, or Java. These messages will differ depending on the computer and browser you use, but you will need to allow the applications in order to successfully use the training system and can choose to allow them just once or always.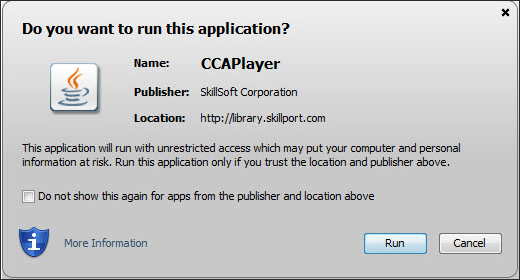 As of September 2015, the majority of the courses in the Training Academy learning management system (used for compliance training) are now running Java-free.   A small number of EHS courses still require Java, but will be updated by January 2016.
Need additional help?
Known issues such as outages and errors are posted in HR Learning & Development News.
For questions concerning login access or assignments in Skillport or Training Academy, or to arrange a time to use these online learning systems in our computer lab in Capital Hall, please contact HR Learning & Development at 205-348-9700 or HRLearningandDevelopment@ua.edu.
For technical questions and support, please contact your department's IT staff, the IT Service Desk, or Skillsoft Customer Support.
IT Service Desk
http://oit.ua.edu/oit/services/it-service-desk/
205-348-5555
ITSD@ua.edu
Skillsoft Customer Support
http://support.skillsoft.com
866-754-5435 ("If you are a student of Skillsoft products, press 2") support@skillsoft.com
Posted in: Compliance Training, Skillport, Training Academy